GET YOUR LIFE ON TRACK WITH ERIN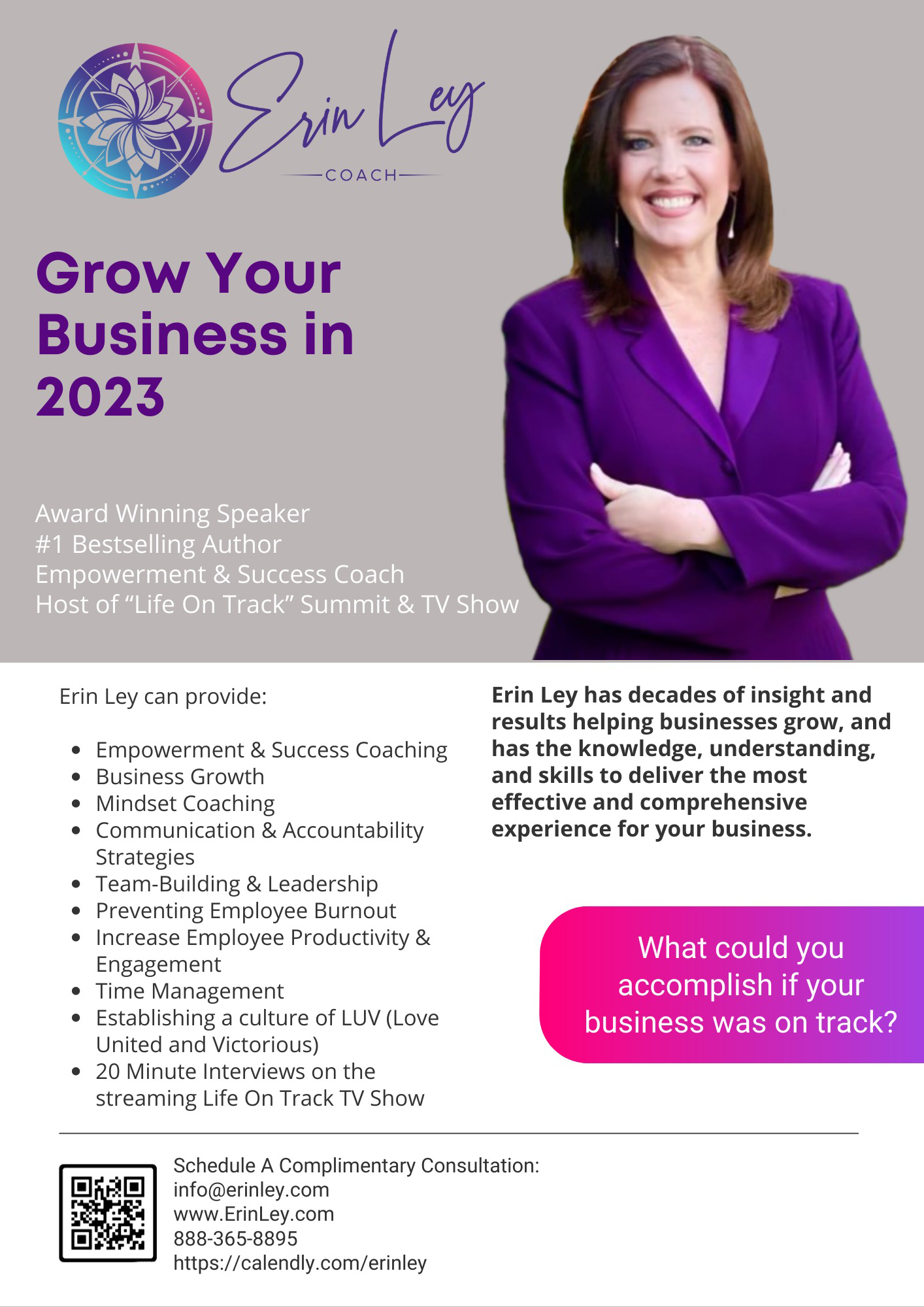 6-WEEK LIFE ON TRACK COURSE & GROUP COACHING PROGRAM
Are you feeling stuck, overwhelmed, or distracted? Covid didn't help much.

Are you lacking a Vision for your life &/or business? Are you struggling with decisions necessary to move you forward?
Do you feel like you had it all figured out and then something happened to through it all in the air?
I help my clients become focused, fearless, and excited about life and your future, personally and professionally!
A powerful, influential, empowering & transformational 6-WEEK Group Course and LIVE Coaching Program "LIFE ON TRACK: FINDING YOUR PATH TO CLARITY, CONFIDENCE, and PROSPERITY!" for men and women!
Sharing with you the 6-Landmarks necessary to reach on YOUR path to IGNITE YOUR BEST LIFE focused, fearless, and excited about life personally and professionally!
YOU CAN easily achieve what you previously thought was impossible! Enroll into this wildly transformative 6-Week "LIFE ON TRACK!" Group Course and Live Coaching Program TODAY and receive special BONUSES! We are transforming lives and helping businesses grow around the world!
SIX significant landmarks necessary to keep your life on track
How to create a strong VISION for your life, personally and professionally
How to shift away from attracting what your DON'T want in your life and shift into attracting what you DO want – the right people, places, and things into your life
How to become COMMITTED to your vision
How to embrace your successes and your failures as you grow personally and professionally
How to get past your fear, lack, and scarcity mindset acquire the mindset of ABUNDANCE and PEACE
Life Coaching For Individuals AND
Executive Coaching For Professionals!
GO FROM STUCK, OVERWHELMED, AND DISTRACTED TO
FOCUSED, FEARLESS, AND EXCITED ABOUT LIFE AND YOUR BUSINESS!
PRIVATE 1:1 LIFE COACHING ​​​​​​
This private one-to-one Life Coaching program is tailored to fit your personal & professional needs.
This program teaches you how to create a strong vision for your life personally & professionally, build your career, deal with stress, develop positive habits and eliminate overwhelm.
It empowers you with the tools necessary to move onward and upward through and beyond transition into the next chapter of your life both personally and professionally with peace of mind, quality of life, and fulfilling relationships! It is designed to help you harness your inner-power and ignite your BEST self with strength, clarity, and connection!
Executive Coaching To Improve Communication & Accountability, & Productivity
The BEST thing you can do for your business is invest in a professional Executive Coaching Program!
This GROW YOUR BUSINESS (GYB) program is designed to offer your business improved communication skills whereby productivity goes up and the leaky bottom-line disappears. This program includes personal growth and professional leadership training.
This is NOT a command and control type environment looking for who's doing something wrong. It IS about helping employees embark on empowering changes to achieve remarkable RESULTS! This has wide spread implications for a far healthier and more enjoyable life and workplace for everyone involved! #OnwardAndUpward
Get started coaching with Erin by scheduling an interview. During this 30 minute session Erin will learn more about where you are or what you want help overcoming. During this interview Erin will determine if you are an ideal coaching client.
Erin is selective with the people she works with and only works with people who are willing to be coached and put in the time and effort to see their results.